Our People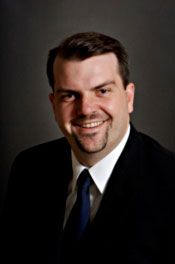 Brian Griggs - general partner
Brian is a General Partner and oversees the day to day operations for Crown Sterling Properties including Asset Management, Investment Analysis, Leasing, Acquisitions/Dispositions, and Corporate Strategies. He is committed to management and values his clients and partners trust. In addition to exceptional management, being "of your word" can make all the difference to a strong¸ lasting business relationship.
Prior to joining Crown Sterling Properties Brian spent over 9 years with the Cawley/Wilcox Companies. During Brian's tenure at Cawley/Wilcox he worked on a myriad of real estate transactions including corporate campus relocations, ground up construction, sale leasebacks, financing, site selection, leasing, sales and investments. During his real estate career, Brian has participated in real estate transactions in excess of $500 million.
Brian understands the motivations for both landlords and tenants and prides himself on being direct and honest as well as delivering on the commitments he makes. Brian has developed a reputation in the industry for being relentless in his efforts with a strong commitment to excellence to every challenge.
Brian is a Dallas native and a graduate of University of North Texas with a Bachelor of Sciences degree in Philosophy and Finance. He has been active in numerous activities including: The Real Estate Council, North Texas Commercial Association of Realtors, CEO Netweavers, Compassion International, and Global Missions. He resides in Dallas with his wife, Jennifer, and his four children.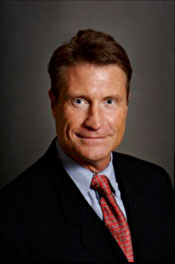 Tom Dyer - general partner
Tom is a General Partner and oversees all leasing and brokerage services for Crown Sterling Properties. He is committed to the pursuit of doing something that offers a lasting legacy. His career is peppered with such opportunities.
Tom began his real estate career in 1983 in the Las Colinas market as a Project Leasing Manager with JPI, the developer of Las Colinas. Tom's primary responsibility was the marketing and leasing of Williams Square, the "crown jewel" for the master planned 12,000 acre Las Colinas development. During Tom's tenure on Williams Square, he averaged over 300,000 square feet per year of new leases. Today, Las Colinas is home to many top 500 firms and is recognized as one of the top mixed used developments in the world. He has worked with major real estate firms, including Colliers International, Insignia/CBRE and GVA Cawley.
During his career Tom has overseen up to a 2 million square foot office portfolio, represented tenants, and sold raw land and medical offices. Tom's in-depth experience in the various disciplines of the office leasing business, along with his extensive knowledge of the Dallas area markets brings the highest value and unparalleled insight in order to achieve the best results for his clients' needs. Tom has been directly involved in lease transactions totaling over 5.5 million square feet.
Tom is a Dallas native and a graduate of Texas Tech University with a Bachelor of Business Administration degree. He has been active in numerous activities including: The Real Estate Council, North Texas Commercial Association of Realtors, TREC, Texas Tech Letterman's Football Association and Highland Village Church. He resides in Dallas with his wife, Susan, and has four children.
Tom believes in the value of hard work and stands firm that honesty and integrity far outlast any transaction or business venture. His end goal is to always be proud of who and what he represents as a leader of the Crown Sterling Properties team.
Adam Kanneman - V.P. Property Management and Facilities
Adam is the V.P. of Property Management and Facilities for Crown Sterling Properties and all Third Party Clientele. Day to day operations include the supervision of over three (3) million square of retail, office, and industrial property in Dallas, Fort Worth, and Austin. Adam is also responsible for the creation and implementation of a fully integrated Facilities Management and Service operation to Third Party and Brokerage Management Clientele. Facilities Management provides fully autonomous services in janitorial, concierge, landscape, surface treatment, and construction/ construction management in Dallas and Fort Worth. Prior to joining Crown Sterling Adam was employed by Harwood International, Primera Companies, and Billingsley Company. Over the past twelve (12) years Adam has participated in over three-hundred ($300) million dollars of real estate transactions, asset management over six (6) million square feet, and multiple office and industrial developments and owner construction management oversight.
Adam received his undergraduate degree from Penn State University and his MBA in Finance from Auburn University.
Adam is married to his high school sweetheart and the father of boy-girl twins. He is the founder and President of Footwashers Ministries that has operations across the United States and sponsorships in Uganda and Haiti. Adam a is hard driven and passionate individual who relentlessly pursues solutions for his clients and Crown Sterling alike.
Brad Rowland - Lead Analyst
Brad provides internal auditing, underwriting and reporting expertise for Crown Sterling Properties. He has over seven years of experience in commercial real estate finance and asset management. His background is further diversified by his seven years of experience in the professional services industry as a business consultant for Ernst & Young and Arthur Andersen. Finally, Brad is a licensed CPA and real estate salesperson in the state of Texas and holds an Accounting & Management Information Systems degree from Texas Tech University.
Brad resides in Dallas with his wife and four children.
Almira Puangpee - Property Manager
Almira is committed to developing strong tenant relations. She is seasoned in cost management, efficiencies and construction management. She has managed over 2M square feet in office, retail and medical portfolios. Almira is an integral part of the Crown Sterling Properties team, seeking to add value by providing trustworthy and solid management. Almira has over 9 years of property management experience and holds a masters degree in criminology and social work.
Kelley Cain - Portfolio Accountant
Joining CSM in 2005, Kelley has worked in property management and construction for a variety of commercial ownership entities for over 20 years. Positions held include Assistant Controller at Lincoln Property Company in Dallas, Accounting Manager for Insignia PMG (previously Paragon Group) and Senior Accountant for Trammell Crow Company. Her experience in the real estate industry has allowed her to become proficient in budgeting, tenant escalations and implementing accounting and property management software. Kelley's insightful practices and accurate results directly lead to optimizing property efficiency and value. She is a graduate of The University of North Texas and has a BBA with a concentration in Real Estate.
Michelle Sloan - Property Assistant
Michelle recently moved from Illinois to join the Dallas commercial real estate and building management industry. She previously worked as a commercial and residential leasing associate and holds a Texas real estate license. Michelle takes great pride in retaining and assisting our tenants and she is committed to providing excellent tenant relation services and offering the best of management services. Michelle graduated from Millikin University in Decatur, Illinois and now resides in Dallas with her husband and two dogs.
Karl Thompson - Chief Engineer
Karl brings a wealth of knowledge and expertise to the Crown Sterling Properties team. Karl has diversified experience with over 28 years of HVAC and 18 years of commercial office building engineering experience.
He leads all engineering needs for Crown Sterling Properties, always seeking effectiveness and efficiency. Additionally, Karl is committed to developing and maintaining strong tenant relations. His work ethic and increased focus on energy savings, critical issues and high dollar items is critical in saving ownership dollars while still providing a quality service for the tenant.
Karl is a married Dallas native with two kids.